The Ken Owen Award is presented annually to the Team ORCA member voted "most inspirational" by their teammates.
The award was created by Mike Bourcier and Michele Levesque to commemorate Ken Owen (pictured to the right), a long-time member of Team ORCA who passed away in 2005. Ken was a great friend to Team ORCA, and loved running, triathlons, and the camaraderie of his running friends.
The recipient of this award is chosen for his or her "INSPIRATION" to other members of ORCA. The criteria for the award is that it is to be given to the person who, through his/her dedication, tenacity, comeback, etc. has been an inspiration to us all.
________________________________________________________________________________________________________________________________________________________
2020 Winner – Penny Youngash
This year's recipient has been described as humble, enthusiastic, quick to respond to club needs and often creatively thinking of new ideas to benefit us all as a group.
The most inspirational Orca member for 2020 raised our spirits along with her own, by encouraging members to pursue a virtual half marathon…complete with awards designed and provided at her own expense.
Regardless of the challenge, Penny goes the extra kilometers, far beyond the role and responsibilities as Membership Director. Thank You Penny!
_______________________________________________________________________________________________________________________
2019 Winner – Donna de bellefeuille
Working as Race Director in a tireless and capable capacity, Donna has been a tremendous benefit to our club. Additionally, she inspires us by pursuing ambitious goals and accomplishing much, as a passionate runner. The Ken Owen Award truly belongs to Donna for 2019!
_________________________________________
2018 Winner – Doug Brown
Doug Brown is the 2018 winner of the Ken Owen Award. From the day he joined the pod, Doug has devoted himself to encouraging other runners. Joining Rod Bailey to co-lead the ORCA Learn to Run program, Doug has inspired many (62 this year!) people in the Oceanside community to get back into running or to discover for the first time how enjoyable it can be to train with friends. With his athletic canine buddy, Harley, Doug has encouraged dozens of runners and walkers to be healthy and involved, especially in the annual Oceanside Mother's Day race which he helps to organize. We are grateful for Doug's dedication, service, and leadership.
_______________________________________________________________________
2017 Winner – Jill Davies
Jill Davies is this year's winner of the Ken Owen Award. A woman who has reinvented herself as a serious athlete in recent years, Jill has trained and competed consistently since joining the ORCA family. As the Public Relations Director, she has worked tirelessly to increase awareness of our club and its activities, as well as to invest much of her free time to obtain draw prizes and publicity for our annual Oceanside Mother's Day 10km and 5km event. With her ready laugh, cheerful encouragement of all runners and walkers, and devotion to improving health and fitness in our community, Jill has truly earned this special honour.
_________________________
2016 Winner – Patti Rogers
Patti Rogers was the recipient of the 2016 Ken Owen Award. She is a remarkable athlete and has been part of record-setting relay teams in several races. Patti is a well-loved ORCA member who consistently participates in Saturday training runs and keeps us laughing at
post-run breakfasts. Devoting many hours behind the scenes, Patti has organized wonderful ORCA social events over the past years, including the Amazing Race. With Bill and Chloe's support, Patti has been our inspiration and is our Ken Owen Award winner!
——————————————-
2015 Winner – Barry Carr
Barry Carr was the recipient of the 2015 Ken Owen Award. He finished first in his age group in the Oliver Half Ironman and then completed the Whistler Ironman with a third-place finish. He managed all this in his 70th year while being Race Director for the Oceanside Mother's Day 10k race and assisting with the Qualicum Beach Triathlon. Congratulations, Barry! You are truly an inspiration and deserving of the Ken Owen Award.
——————————————
2014 Winner: Barb Low

Mike Bourcier, in memory of Ken Owen, presented this award to Barb Low. Barb volunteers much of her time planning running routes, remaining positive and fun while cheering her fellow runners onto personal victories. She remains dedicated and inspiring to all.
——————————————
2013 Winner: Jim McLean
There was not a dry eye in the house during the emotional presentation of this award by Mike Bourcier to 82-year-old Jim McLean. Jim received a plethora of nominations with many comments celebrating his optimistic attitude, determination, persistence, and good humour. Jim has come onto the running scene late in life and has embraced the sport fully, inspiring others as a result. Congratulations, Jim!
—————————————–
2012 Winner – ROD BAILEY
2011 Winner – MICHAEL MALONY
2010 Winner – HEATHER BEATTY
——————————————
2009 Winner – Rhys Harrison – presented by Rod Bailey and Annette Owen (Ken's wife)

The choice for the 2009 Ken Owen Award winner was the year's most inspirational ORCA: Rhys Harrison. Over the past number of years, Rhys has contributed a lot to the running community in Oceanside.
What differentiates Rhys, is his leadership. He has been a role model for others and has persevered through lots of challenges and encourages others to do the same.
Many have benefited from his knowledge probably without having known that Rhys was correcting form or efficiency or motivating them toward a goal. He provides gentle coaching and reminders of form in a considerate and complimentary way.
His dedication and love of the sport is inspiring. Who doesn't want to be like Rhys – training for marathon after marathon? But what is really inspiring is his willingness to share his vast knowledge of running with anyone.
Rhys was instrumental in providing training and assistance for the 2009 RVM and Nike races. In addition to providing personal assistance, Rhys took it one step further in creating a question and answer format on the ORCA website that was in turn helpful to all members.
He also assisted the newly formed race committee by sharing his expertise in race organization with them. Many of you may not know that Rhys was a race director for the Oceanside Mother's Day 10K Race for many years.
Running with Rhys isn't just about form and speed. He has a huge appreciation for nature and has introduced many ORCA members to the bobbing American Dippers in the Qualicum River and the Wood Ducks in the trails of Fairwinds. Congratulations, Rhys!
——————————————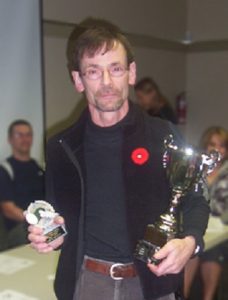 2008 Winner – David Beatty

The 2008 recipient of the Ken Owen Award was David Beatty. David is one of the original ORCA members and a person who promoted the joy of running in Oceanside long before the idea of ORCA club was even hatched. His Sunday runs have been a long standing tradition for community runners. No runner, no matter how slow their pace, is left behind on a Sunday run.
David's famous "loop" echoes through the trails of the beautiful and interesting runs he selects each week. David, along with Heather, his wife and running partner, open their warm home for delicious brunches and lively conversation many weekends.
Following are some of the comments received by club members with regards to this year's recipient:
"David's dedication and enthusiasm has kept many a runner going over the years."
"David has a very inclusive attitude to making the Sunday runs a fun experience for all."
Ken was present at most Sunday runs, not necessarily running, but often biking.
Ken would be very happy to know that David was receiving this award, not only because Ken was a dear friend of David's, but because David represents everything that Ken believed in: camaraderie, encouragement, dedication, and tenacity. Congratulations, David!
——————————————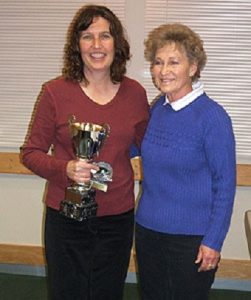 2007 Winner – Kim Longmuir

The 2007 recipient of the Ken Owen award, for most inspirational ORCA, went to one of the original ORCA members, Kim Longmuir. Kim was a very dear friend of Ken's, he would quite often show up at Kim's for a cup of tea. Kim has been a very dedicated member of ORCA, always organizing, keeping the membership in order, keeping everyone informed, keeping and storing all the club equipment, a lady of many hats. In the early years of Team ORCA, Kim looked after all the director's positions herself — a large task which she did with love and pride.
As the award says, "someone who is an inspiration to other ORCA members", Kim fills its role with both running shoes. She knows everyone in the club by name and runs with all levels of runners, inspiring them to pace themselves, they can do it, but they are important. Kim is a very patient person is shown by her ability to guide new runners from first steps to running their first 10K or even a first half marathon. Through her "Ready Set Run Program", Kim has shared her love of running with many new runners, giving very explicit instructions on how much do and not do. Her dedication to these runners was very evident when a group of them showed up for their first half marathon with T-shirts with the text, "Team Kim Says." Congratulations, Kim!
——————————————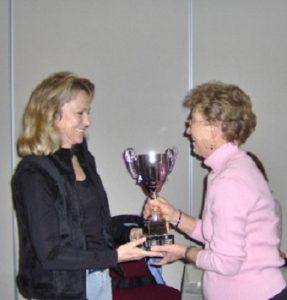 2006 Winner – Laurie Ritchie

The recipient of the Ken Owen Award in 2007 for the Most Inspirational Orca went to one of the original Orca members, Laurie Ritchie. What is especially nice is that Laurie was a very good friend of Ken's, so Ken would be thrilled to see her receiving the award. Laurie has been a dedicated and very involved ORCA member from ORCA's beginning in 1998. She helps with coaching, phoning, clinics and events.
Although all of the above qualities are all very much appreciated, Laurie was selected for the inspiration she gives to others. As you all know, Laurie is a talented and "fast" runner, but she is willing to run at any pace to support other club members. There is no pace too slow for Laurie. She checks up on people if you don't show up for a run and has even been known to recruit new members on the run!
I would like to read some of the comments people made about Laurie.
"I think her dedication to our training program is an inspiration to all of us."
"Laurie truly cares about the people she runs with and genuinely wants them to succeed."
"Apart from the professionalism and discipline which she applies to the front runners, Laurie has helped create a club identity by showing consideration and caring for those that like to chug along. This is at the heart of our club philosophy and what makes us ORCAs."
Congratulations to you, Laurie! Ken would be so happy to see you receiving this award.