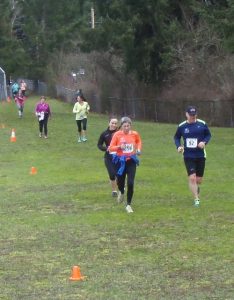 ORCA is a club for adult runners and walkers and offers you the great benefits of:
•  Scheduled weekly road runs and trail runs/walks of varying distances at a pace to suit everyone
•  Runs to improve speed and strength
•  Training advice and plans
•  Injury prevention tips
•  Motivation to help achieve your running objectives
•  Social events
•  Discounts from our generous club sponsors

The membership fee includes your membership to the Vancouver Island Runners' Association.
———————————————————————————————————————————–
Membership fees are $15.00 per person if you pay by cheque with mail-in registration form.
Membership fees paid online are $15.00 plus $1.00 for processing fee. For two family members, use the dual subscription option.
Membership term is: January 1st to December 31st
Please note membership fees are not pro-rated for members that join throughout the year.

———————————————————————————————————————————–

Three Easy Steps to Become a New Member or Renew Your ORCA Membership
Step One: Complete Your Membership Form
New Members: Fill out paper form and mail to ORCA or fill out online membership form by following the links on the left.
Existing Members: Use the membership form (paper or online) to update your information and submit as required.
————————————————-
Step 2: Read, Understand and Acknowledge Your Acceptance of the Release of Liability, Waiver of Claims and Assumption of Risks.
————————————————-
Step 3: Pay ORCA Membership Fees
You can pay your fees by cheque for $15.00 and mail it along with your completed Membership Form to ORCA.
Oceanside Running Club Association
P.O. Box 2040
Parksville, BC V9P 2G1
DOWNLOAD the ORCA Membership Form here.
or,
REGISTER AND PAY ONLINE  with PAYPAL or a CREDIT CARD (membership fee plus online costs – $16.00) by following the link below.
The name on your credit card statement will read "OCEANSIDERU." This will be your official confirmation of paid membership.
Questions about membership should be directed to membership@orcarunning.ca.
If you are not receiving ORCA email, please ensure that you have renewed your membership, then check your Spam or Trash folders. If you find an ORCA email, check your spam filter settings to unblock content. For example, for a gmail account, click on the Settings icon at the top right of the screen, select "Filters and Blocked Addresses" on the toolbar near the top of the page, check to see if there are any blocked addresses listed, and if so, select the ORCA mail URL and click on "Unblock selected addresses". If you don't see ORCA email in your spam or junk folders, add the "From email address" URL  to your contact list or address book (e.g., mail100.suw17.mcsv.net).
If you have unsubscribed by mistake, to avoid frustration if you would like to receive weekly emails, contact membership@orcarunning.ca or let Heather Beatty know ASAP (heatherbeatty@shaw.ca).