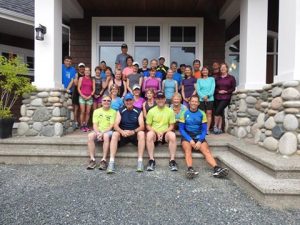 2016 ORCA Annual General Meeting: held at 10 a.m. on Saturday, November 12 near Red Gap in Nanoose Bay at the Library Hall. Beverages provided after the morning run.
Oceanside Running Club Association (ORCA)
Minutes of 2016 Annual General Meeting
Meeting started at 10:00 am at Nanoose Bay Library Hall
Members in attendance – 20
Board of Directors in Attendance:
President: Terry Riggins (acting for Barbara Low)
Treasurer: Gerry Thompson
Secretary: Maureen Kenyon
Membership Director: Lori Allin (stepping down), Douglas Brown taking over position of Membership Director
Communications Director: Terry Riggins
Public Relations Director: Jill Davies (assisted by Goldie Lindenbach)
Social Director: Patti Rogers (assisted by Barb Wildman-Spencer and Alli Roberts)
Volunteers in Special Positions in Attendance:
Mother's Day Race Director: Donna de Bellefeuille (acting for Barry Carr)
Learn to Run Program: Doug Brown (also representing Rod Bailey)
Website Creator: Wendy Rockafellow (huge thanks!)
10:00 a.m.: Call to Order and Welcome: Terry Riggins on behalf of Barbara Low
President's Report: Barbara Low
Welcome to the ORCA membership. Thank you for attending. I call the meeting to order at 10:00 am in the Nanoose Bay Library Hall. The ORCA Board of Directors met several times this year and dealt with some important issues. We are pleased to note several club members Doug Brown, Goldie Lindenbach, Barb Wildman-Spencer, and Alli Roberts who are pairing with current Directors to assist with Membership, Public Relations, and Social Events. We hope that by sharing the volunteer workload, they will be able to assume these positions in the future. Meantime, all of the current Directors—Terry, Gerry, Maureen, Lori, Patti, and Jill–have contributed a great deal on behalf of the club throughout the year and in past years.
Among the highlights, our Mother's Day 10K was a huge success with an increased number of registrants that included parents pushing baby strollers on the new 5K course. We also received significant donations and sponsorship for the race. Our donation of $3,500 to the Haven House will be used locally to support those in the area needing assistance. Thank you to Jill Davies for organizing a large cheque presentation for publicity purposes providing visibility for both Haven House and ORCA. Thank you also for organizing so many draw prizes for volunteers and participants—our best year yet!
ORCA now has an official mailing address— P.O. Box 2040 in the Parkville Post Office. This allows the club to comply with website requirements and to provide a permanent place for members and race registrants to send cheques if they choose not to use online payment options. Several Directors will monitor the post box each month, especially from January through May before the Mother's Day Race.
The club also has its first third party liability and Directors' insurance coverage. The policy allows us to function more securely as a club during weekly runs and periodic social events. Our Mother's Day Race will continue to be covered by a separate policy.
Partly as a result of the increased expenses, we have raised the annual membership fee very slightly to $15 per year per person. To meet liability policy requirements, we will only offer membership to adults age 19 years or older. Children and youth can still participate. A parent of a younger person who wishes to accompany them in a club run can sign a parental waiver form just before the run. Club social events held in members' homes will still be open to all family members, especially new grandchildren J
Wendy Rockafellow has worked tirelessly with Barbara Low, Lori Allin, Heather Beatty, and other club members to design and set up a new ORCA website that is current, appealing, and in compliance with legal requirements. Thank you for all of your hard work, creative input, and support to get the website up and running, Wendy. We also acknowledge Ken Peters and Jess Brewer for their contributions to the previous website.
On behalf of Barbara Low, I want to thank several ORCA members for their leadership and participation to aid the club including: Heather Beatty, Jackie Allen, Rod Bailey, Doug Brown, Laurie Ritchie, and Teresa Klemm for their commitment to managing our weekly runs or Learn to Run sessions. Laurie is out of the country and Teresa has stepped down from her leadership role but we thank all of you for your outstanding commitment to the club!
Race Director, Barry Carr, and Donna de Bellefeuille could not be here today. Barry and Donna did an outstanding job of organizing the 2016 10K and 5K event. The race committee included Donna, Shirley, Rod, Sheri, Jill, Barbara, and Dean—all worked tirelessly and organized many members and community participants to help make the race such a success. Barry would like to mentor an ORCA member to eventually take his place as Race Director. Anyone who is interested can email Donna de Bellefeuille.
Special thanks to Lori Allin for her consistent effort to organize our new and renewing club membership. This is now fully online on the new website, including the liability waiver and payment option. Thank you very much for all your hard work, Lori!
We would also like to recognize Patti Rogers as Social Director for her inventive ideas for planning such enjoyable social activities. There have been numerous fun events in the past year, such as the Easter Egg Trail Run, Farewell Brunch for Laurie and Scott, a Safari Amazing Race at Rivers Edge, and our upcoming Christmas Party at the Nanoose Bay Library Hall on December 17th.
Our PR Director, Jill Davies, has worked behind the scenes throughout the year to increase the club's visibility, develop relationships with club and race sponsors, and to recruit new members. The club has been recognized in the PQ News, Parksville/QB Discovery Guide, RDN Active Living Guide, Shaw TV video at Rathtrevor before the Mother's Day Race, and the big cheque presentation to Haven House at Quality Foods in Parksville this summer.
Special thanks to Heather Beatty, Saturday morning run organizer, for her consistent effort to set routes and offer venues for socializing after each run. I also recognize her willingness to learn a new email system that is linked to the new ORCA website.
I also want to acknowledge and thank our club sponsors: Kickstart Fitness, Frontrunners Nanaimo, Outsider Adventures Inc., Run Fluid, Pharmasave, Jim's Gym, Pure Motion Pilates, Vigorous Lifestyles and our race sponsors, Quality Foods, Pharmasave, Starbucks, Investors Group, Island Radio, Summit School of Guitar Building and Repair, What's On Digest, Shaw TV, and Spine Sports and Wellness.
On behalf of Barbara, I want to thank all ORCA members for their participation over the past year and the Directors for their contributions and perfect attendance at meetings held at Patti's, Jill's, and Barbara's! The past year as President has been rewarding and she is looking forward to another enjoyable year when she returns from Texas.
Treasurer's Report: Gerry Thompson – report appended below
Membership Report: delivered by Doug Brown
Public Relations Report: Jill Davies –not in attendance
ORCA Racer of the Year Award: Terry Riggins (on behalf of Rhys Harrison) – Allison Roberts: 12 trail race plus many more.  The trophy was donated by Rys Harrison
Ken Owen Award: Memorial award presented by Faye Amos, Close race this year, three way tie.  Patti Rogers, the special events coordinator extraordinaire is passing the torch to Barb Wildman-Spencer and Alli Roberts.
ORCA Website Report: Wendy Rockafellow
Learn to Run Program: Doug Brown (also representing Rod Bailey)
Started in Feb 2016 and continued to one week after Mother`s day.  A group continued to progress to 10km by July 2016.
Next year the Learn to Run schedule will have the group running up to 5 km one week before the Mother`s Day Run in May 2017.
T-Shirts: Gerry Thompson
There is a shortage of T shirts in Canada – sizes, styles are not in the warehouse.  New Balance offers a quality T shirt and has been purchased by the club for the previous order.  Fit and price are the requirements for consideration.
OPEN DISCUSSION:
Christmas Party: Saturday, December 17th from 5:30 to 11:30 p.m. in the Nanoose Bay Library Hall. No gifts. Bring your own beverages (self-serve). Also bring one pot luck dish to share with up to 12 people. Wear dancing shoes—entertainment will be provided by ORCA founding member, Doug Pickard, our DJ. He will offer karaoke, a dance contest, and a light show. Admission is $10 per person at the door. Gerry Thompson would appreciate volunteers to help with setting up at 5:30 p.m. and cleaning up at 11 p.m. Thank you for taking this on, Gerry! We will provide information about how to RSVP but in the meantime, please save the date, check the Events page on the ORCA website, and plan to have some fun during the holidays.
Presentations:
Gerry presented special gift certificate  and paying next year club fees –
Heather Beatty – Organizing and posting weekly run
Rod Bailey – Learn to Run organization
Jackie Allen – Tempo
Theresa Klemm – Organizing and posting weekly trail runs
Barry Carr – Race director
New Business:
Faye commented that Haven House has many areas of support,  and suggested next year the funds go to different worthy causes such as Forward House – mental health group that has less profile in the community and fewer support and / or Kim Longmuir and Randy Longmuir  track club.
Annual General Meeting notes filed on November 13th
___________________________________________
TEAM ORCA: 2016 Year-End Financial Record
Compiled by Gerry Thompson, Treasurer

November 1, 2015 to October 31, 2016
Balance Forward, Nov 1, 2015                $   5,361.12                                        
INCOME
Membership Fees                            1,419.90
Interest                                                   18.04
Learn to Run                                       267.22
Race Revenue                                   9,130.00
Race Donations                                   500.00
TOTAL INCOME                      $11,335.16
EXPENSES
Annual General Meeting                  165.89
VIRA                                                    100.00
Club Expenses                                2,092.43
Group Runs                                         122.01
Club Advertising                                248.19
Annual Filing Expenses                   109.00
Race Advertising                             1,108.56
Race Rentals                                       470.00
Race Expenses                                3,192.90
Haven House Donation                 3,500.00
TOTAL EXPENSES                                                                 $11,108.98
Balance, October 31, 2016                                                    $  5,587.30
Chequing Account – Balance                                               $  1,593.20
Savings Account – Balance                                                       3,994.10
Balance October 31, 2016                                                      $  5,587.30